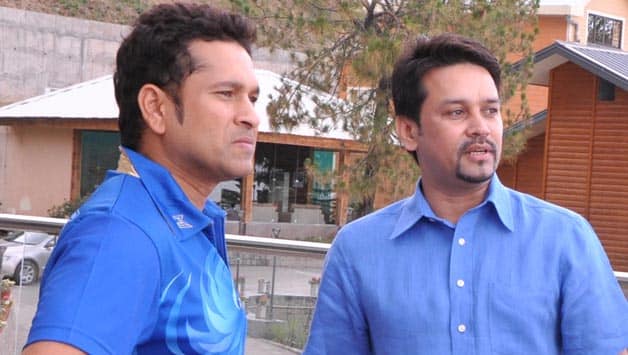 "I am on a difficult terrain" says Mr. Kapil Sibal, senior Congress leader and sworn enemy of Mr. Thakur's saffron political jersey , while he began his endeavor to bail out his puissant client, the BCCI. "You are hired for difficult terrains. Easy cases don't need you, Mr Sibal" replied Chief Justice of India, Mr. T.S Thakur. Only a few months ago, Mr. Sibal had been golden boy Rahul Gandhi's attorney in the defamation suit filed against the latter by the RSS. Bob Dylan was certainly right, "
the times they are a changin'"
A newly constituted Special Bench of Justice T.S. Thakur and Justices AM Khanwilkar and DY Chandrachud is presently hearing the Supreme Court-appointed former Chief Justice of India R.M. Lodha-led committee's recommendation to oust the entire brass of the cash-rich Board of Control for Cricket in India (BCCI), including its president and BJP MP Mr. Anurag Thakur.
Even if Justice Thakur recently lamented on the lack of judges in proportion to the rise in cases, he certainly won't bemoan his lack of humour, which was on full display in a virtual takedown of Mr. Sibal. When asked if the BCCI boss has got any special skills, Sibal replied in the affirmative that Anurag Thakur is a cricketer. Anurag Thakur had played one Ranji cricket match and scored zero runs before stepping into the shoes of a cricket administrator.
In an apparent ridicule of Sibal's observation, Justice Thakur replied, "We are all cricketers here, Mr Sibal. I was captain of SC judges team against the Bar,". While Sibal continues to face social media backlash for his outlandish defence, Anurag Thakur and his cohort made it quite clear that they wouldn't budge even an inch. In its concluding note, BCCI refused to give an undertaking that it will comply with the Lodha recommendations, which will pave the way for Supreme Court to pass an order on the same.
Earlier, Justice Thakur was furious with the fact that state associations voted against the Lodha reforms. He maintained that those associations should refund the money (Rs.400 crore) and no further funds be given if they don't intend to reform. Perhaps, Justice Thakur lost his patience when he took exception to BCCI's plea that state associations are not under its command. If this isn't a clear sin of commission, I wonder what is?
But how can one miss the blatant hypocrisy at play here? Lieutenant-cum-lawmaker-cum-cricket administrator-cum-law defaultor (oops, the last designation is only in reference to his embarrasing position on the Lodha panel recommendations that has send BCCI into a tizzy) Anurag Thakur is a classic example of a self-proclaimed nationalist, whose close-mindedness will not only bring peril to the nation but also rob the gentleman's game of its appeal.
Consider the recent exchange involving him and Javed Miandad on the surgical strikes carried out by India on terror launchpads in PoK.
It all began with Miandad's distasteful remarks about Prime Minister Narendra Modi comparing him to a "rotten egg" and then went on to question his parentage. If that was no enough, he then unleashed a scathing call for martrydom against the Indian state. "The biggest hope and wish of Pakistani men and children is that if we are to be martyred it should be for this (fighting India)...When we get a chance we should do a tit for tat. They are weak. They don't have enough men," he said flustered by the chest-thumping from across the border.
Reacting to this, Anurag Thakur retorted that the former Pakistan captain was still in "shock" over Pakistan's win-less record in both the battlefield and the cricket field.
"Pakistan is still not over the trauma inflicted by India in the wars of 1965, 1971 and Kargil. Same with Miandad who also remains to be in shock for not being able to beat India even once in World Cup history. If needed, India will make Pakistan bite the dust again, whether it is in the battle field or cricket field," Anurag Thakur said.
Here is the unsurprising element in the narrative: The Pakistani batting legend playing with the offensive and aggressive style and Anurag Thakur, a right-arm offbreak bowler who has himself played for Himachal Pradesh in one first-class match, bowling him a few doosras. (No, both the desh-bhakts won't face off at the border, they'll rather have their soldiers martyred for their rhetoric).
Javed Miandad's comments appear delusional at best, if not incurable. As a responsible Parliamentarian, Anurag Thakur should have refrained from adding fuel to the fire. He has no qualms about vociferously speaking of national pride when it comes to waging war, but is oblivious to the obvious fact that it is a 'national' team that they pick which steps onto the cricketing battlefield. This is from where one should locate the ongoing feud between the BCCI top brass and the Lodha panel.
Anurag Thakur seems to be mired in the dilemma of choosing between his own self-interest over national interest. Can anybody else sniff an "anti-national" masquerading as a cricket administrator bestowed with the authority to nurture the next Tendulkars and Kumbles of this cricket-crazy nation? As Samuel Johnson would say, "Patriotism is the last refuge of a scoundrel"
In an act of desperation, the BCCI hoped to send warning bells when a veiled threat to call off the ongoing India-New Zealand series was made. Does Mr. Thakur and his band of merrymen really think they can play hide-and-seek for very long? At best, with this most recent melodrama (presumably scripted by the daredevilry persona of Markandey Katju, BCCI's Robin Hood), Mr. Thakur has literally dug his and the Board's own grave.
He may get millions of hyper-nationalist citizens to support his tirades against Pakistan but he is certainly living in a mirage if he expects the same bunch to let him run cricket in India the way he wants. The very idea that cricket administration is the BCCI's monopoly won't have many cheerleaders. Mr. Thakur has to act fast.
Otherwise, he could do a nobler duty of assisting the brave jawans, who constantly live in fear of not seeing the daylight when defending the borders of our country while he scampers around to save his own skin from the comforts of a plush Bandra Kurla office.
If sarcasm could ever drive home a point, here is one for the record: Mr Thakur and his foot soldiers can continue to serve in whatever capacity and disburse whatever the quantum of funds they would like to their fiefdoms. But, make no mistake, coming under the ambit of the RTI Act is a non-negotiable. If Mr. Sibal were to counter this by stating the provisions of the RTI Act whereby a privately-run body is exempt from public scrutiny, then the Act surely needs to be amended. As citizens, it is upon us to do a big favor to the office-bearers of the BCCI by tutoring them on the real stakeholders of a public good; in this case instiling accountability to a national sport.
Carl Jaison